All our 13oz. Banners come with Hemming & Grommets at NO extra charge.
We also Sell Mesh Banners, Fence Banners, Step & Repeat Banners, X Banner Stands & Retractable Banner Stand.
Any Size Available Please Call 619-362-1919
Check Out Our Banner Specials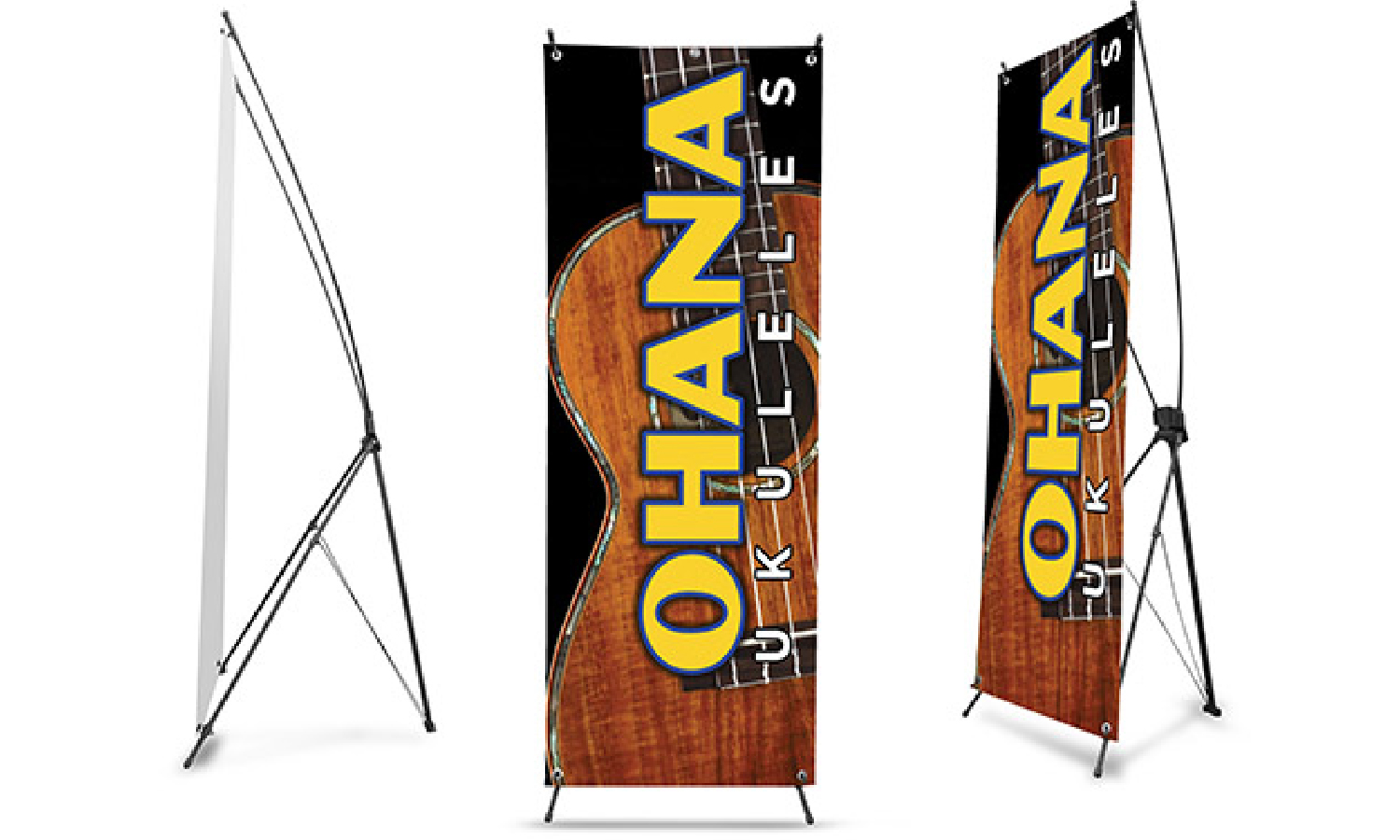 These X-frame banners, also called pop-up banners are easy to carry and quick to setup! They make a great addition to any event. Please Call Us to Place your Order $99 
Why X Banner Stands?
You are looking for an affordable and effective means to display your services to your prospects. We have more than enough ways to help you realize your goal. X banner stand is what you need to attract your customers.
X Banner Stand (Pop-up Banner)
This is a lightweight, portable stand used to display large format graphics — in a retail presentation or trade show.
X banner stands come in various designs, and you get to choose from a wide range of different-sized prints to display.
What's more, you can be sure that your graphics will be securely attached with hooks and grommets.
So, why choose X banner stands?
Create Remarkable Presentations
Want to wow your prospective buyers with extraordinary presentations? Try our X banner stands. Our expert graphic designers got you covered!
Affordable
Luckily, you don't have to break the bank to get these pop-up banners. We understand your business needs, and that's why we only offer affordable and competitive rates. Place your order at only $99.
Different Sizes
Are you worried about the best size that will suit your business needs or budget? Our X banner stands come in different sizes to take care of your space requirements too. Furthermore, you can use the X banner stands both indoors and outdoors in any weather or location.
Portable
Yes, you can move around or travel with your X banner stand. It folds down into a smaller and convenient size — extremely easy to carry when traveling. You also get a carrying bag to protect your banner stand between events.
Less Time Consuming
Our X banner stands are designed to allow for less time-consuming assembly with minimal effort as possible. We only let you worry about your advertising campaign; we take care of the rest. Invest in the best advertising stands outdoors.
Order Yours Today!
Tell us about your business and how you want to communicate to your customers in an exhibition. Our experts are ready to help you make that next big move. Contact Us to get started.
Questions, Comments?
You tell us. We listen.
Email: [email protected]
3205 Moore St, Suite B San Diego, CA 92110
Phone number: 619-362-1919
Monday to Friday – 9:00 am to 6:00 pm
© 2018 All rights reserved by Banners San Diego