All our 13oz. Banners come with Hemming & Grommets at NO extra charge.
We also Sell Mesh Banners, Fence Banners, Step & Repeat Banners, X Banner Stands & Retractable Banner Stand.
Any Size Available Please Call 619-362-1919
Check Out Our Banner Specials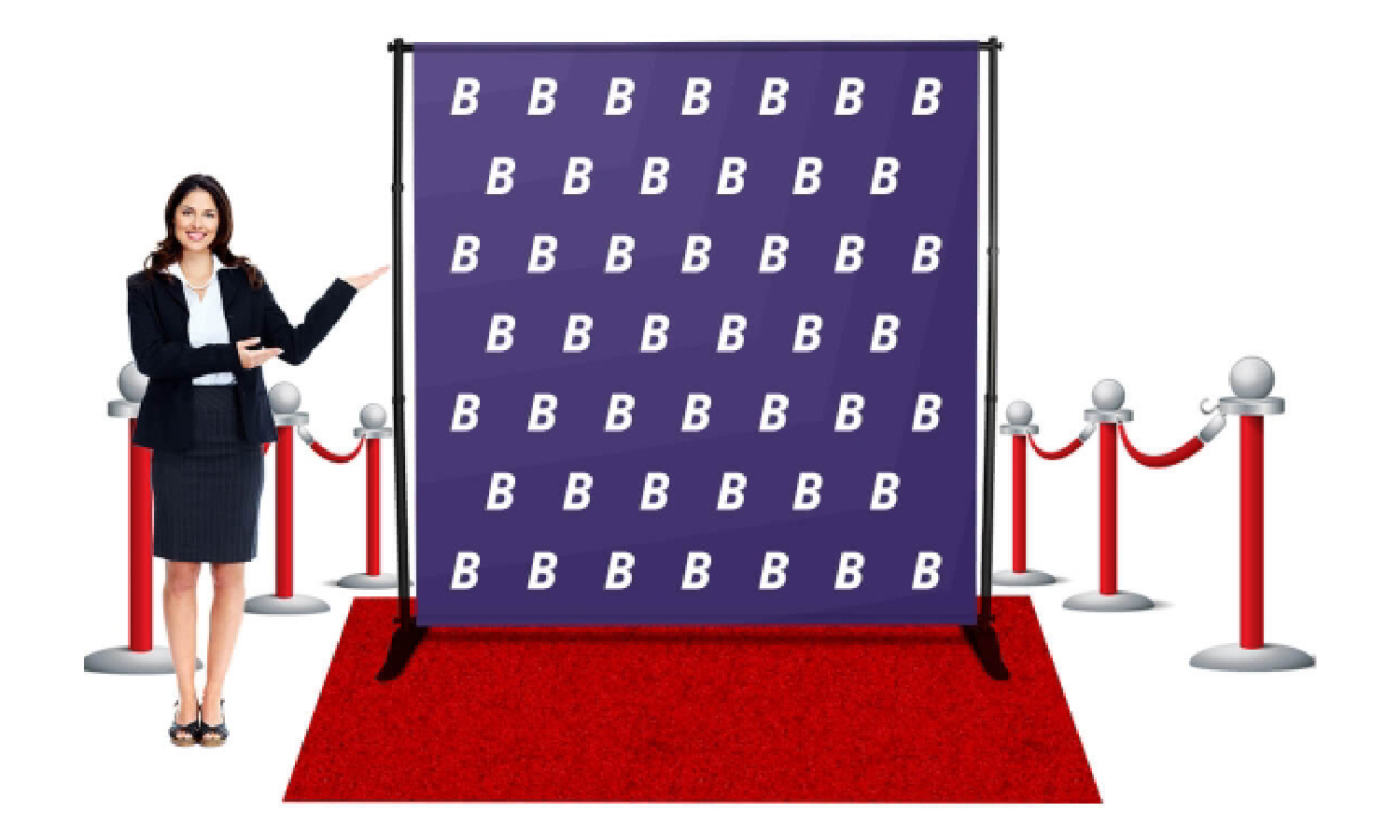 Publicity backdrop 8'x8′ used primarily for event photography, printed with a repeating pattern such that brand logos or emblems are visible in photographs of the individuals standing in front of it. Please Call Us to Place your Order $399
One of the easiest ways of promoting your brand is through event photography. You've probably seen lots of celebrities posing at the red carpet events and other important hangouts.
What is used as the background of the photos is known as step and repeat banner/backdrop.
Many big companies and small businesses alike prefer this means of promoting their brand. Businesses can prominently display their brand logos across the banner.
You want to intensify and boost your brand awareness, right? Step and repeat banner is the best way to go about it.
Press Walls
Step and repeat banners are generally publicity backdrops. You will notice that they have repeating patterns printed on them — emblems or brand logos. These are usually visible in the photos of people posing in front of the banner.
If you can get influencers and celebrities to pose in front of your banner, you will be a step ahead. These photos often circulate widely in media/press. That's good marketing and brand awareness! And as such, your business gets the right amount of exposure to attract new prospects.
Go Small or Big – Factor in Your Business Needs
You can get a customized backdrop that exactly matches your needs with step and repeat banners.
Whether you want to go big or small, our team of experts is ready to help you realize your goals.
Our step and repeat banners come in different sizes and a wide range of materials to choose from.
Size Matters!
Yes, it is the most crucial thing here. First, consider the event you are holding and probably its location.
Also, care to know where the banner will fit just right unless you want something too small or large for your venue.
If you think about a smaller venue, our 8' x 8' step and repeat banner size will be perfect for your needs. It's great for shooting in smaller groups.
Otherwise, you can still choose to go big. Take note that a wider banner gives more room to accommodate more people for a photo shoot. What's more, you also get to fit in more logos of your business or company.
What About Material?
Choosing the right material will save you a lot of stress. Whether you use your banner indoors or outdoors, it should manage to withstand any respective elements — water or wind.
Questions, Comments?
You tell us. We listen.
Email: [email protected]
3205 Moore St, Suite B San Diego, CA 92110
Phone number: 619-362-1919
Monday to Friday – 9:00 am to 6:00 pm
© 2018 All rights reserved by Banners San Diego