All our 13oz. Banners come with Hemming & Grommets at NO extra charge.
We also Sell Mesh Banners, Fence Banners, Step & Repeat Banners, X Banner Stands & Retractable Banner Stand.
Any Size Available Please Call 619-362-1919
Check Out Our Banner Specials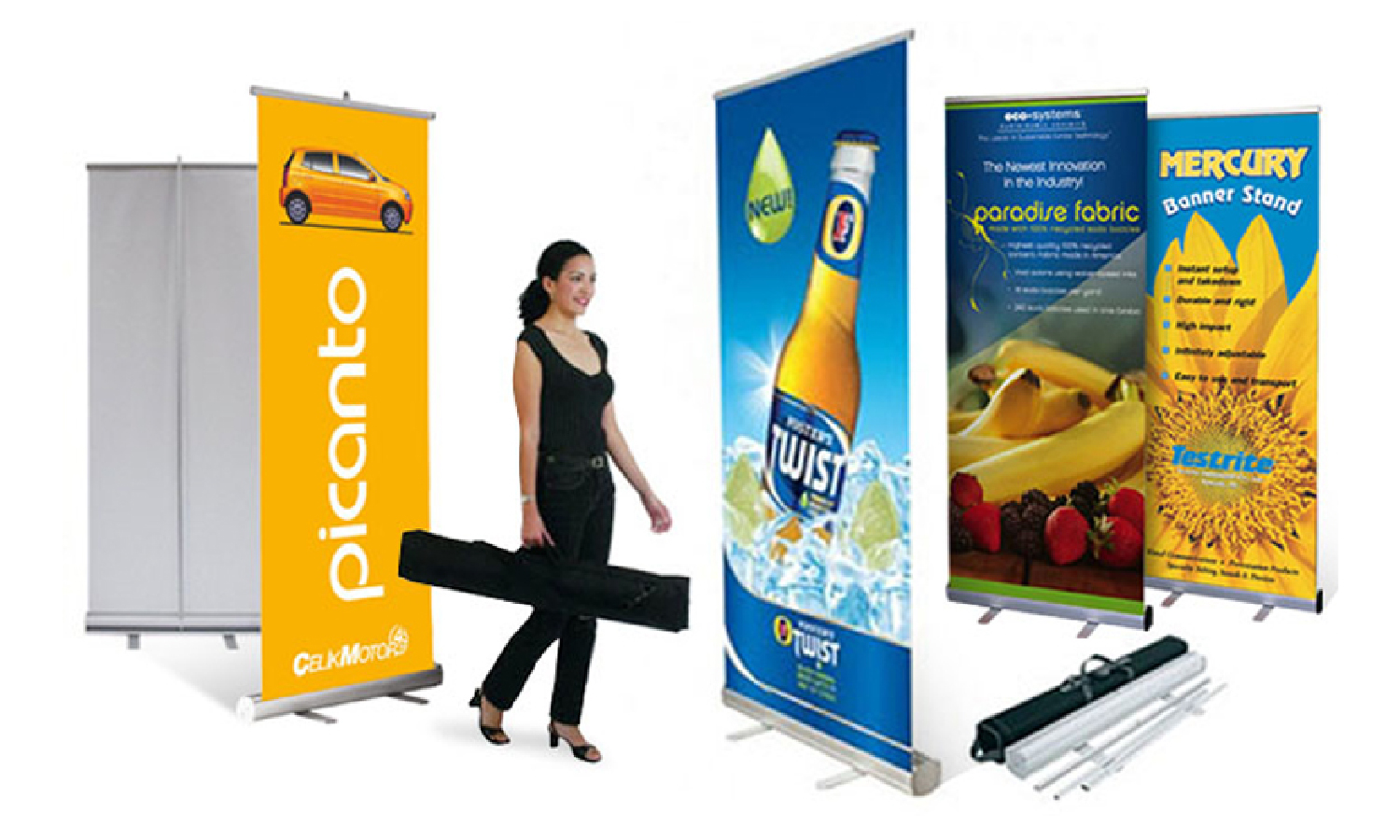 the Rool-up is one of the most popular industrial standard size floor Banners. This is the best selling portable pop up display solution with a little extra room than the other standard. Please Call Us to Place your Order $199
How would you want your prospective customers to notice your business/brand quickly? Banner stands come in very handy in these situations. And luckily, you have a wide variety of options to choose from.
These include roll-up banners, fence banners, X banners, step & repeat banners, and so on.
Retractable Banner Stands
If you have ever thought about a portable pop-up display solution, then here comes your perfect match. The retractable banner stand is one of the best-selling and most popular industrial standard size floor banners.
A retractable banner stand has a spring-like mechanism or tensioner. The tensioner pulls the graphic around a roller in the base when the frame is not in use. As such, you can still refer to it as a roll-up banner stand. Besides, it comes with a little extra room than the standard banner stand.
Here in San Diego, you can count on Banners San Diego for your specific banner needs. Our retractable banner stands are generally:
Highly stylish – We take pride in producing retractable banner stands with sleek styling. They are easy to set up and break down as well. Imagine you can set up the display in less than one minute. This boosts convenience to a whole new level.
Portable – The lightweight banner stand comes with durable carry bags. These are compact enough to be lifted on an aircraft.
Robust and durable – Apart from style, we also ensure that the retractable banner stand is strong and can stand the test of time. The aluminum case is robust to provide years of trouble-free operations. Graphics are displayed on photo paper with a sturdy anti-glare laminate applied on top.
Easy to use

– Our retractable banner stands are designed to have a simple one push button. This allows you to access the graphic base if you want to change the display graphics.
Banners San Diego is your go-to shop for all your different retractable banner stand needs. We have worked with many traders to produce eye-catching graphic displays for their businesses. You can rest assured that we know what works and what doesn't.
Don't just take our word for it. Contact Us today to get your next show stopper banner stand.
Questions, Comments?
You tell us. We listen.
Email: [email protected]
3205 Moore St, Suite B San Diego, CA 92110
Phone number: 619-362-1919
Monday to Friday – 9:00 am to 6:00 pm
© 2018 All rights reserved by Banners San Diego